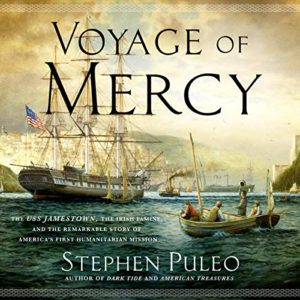 Voyage of Mercy tells the story of how a small group of Americans started a movement to help save the starving people of Ireland during the famine of 1847. Their plan: load up war ships with food and supplies from America and sail across the Atlantic directly to Irish ports. The author Stephen Puleo does an amazing job capturing the details of the period, and the stories of trans-Atlantic travel aboard sailing ships are really beautifully portrayed in both print and audio. 
Sean Patrick Hopkins narrated this one for Macmillan Audio, Elephant Audiobooks provided post-production. 
The print book landed on Amazon today as a #1 New Release in Ship History. 
You can purchase the audiobook here: "Voyage of Mercy"